Posted under:
General
Posted on: November 28, 2013
Why Flossing is a Must, Not a Maybe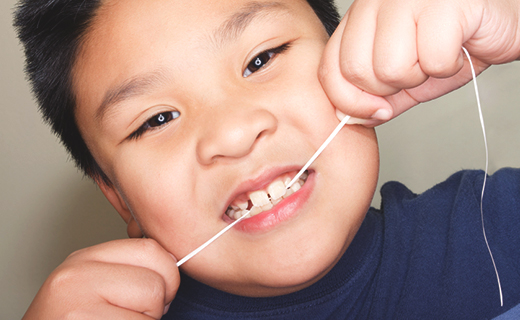 You can run and you can hide, but you can't deny the need for flossing. You may think that daily brushing is good enough to keep teeth healthy, but it's only a good start. It may come as a surprise, but that skinny strand of floss is the only thing that's tough enough to clean plaque from teeth and gums. If not removed, that plaque can cause decay, disease, and dental damage that could have been avoided with a simple string of floss.
With National Flossing Day on November 29, everyone's talking about flossing. While we've always been told that flossing is important, we do not really know why.
Flossing is essential for the protection it provides. See, the sugars in foods cling to teeth and gums. If they're not removed on a daily basis, they're converted into acids that attack the delicate tooth enamel. These acids soon harden into a layer of plaque that quickly leads to tooth decay, swollen gums and gum disease. But this dental care drama can all be avoided with minutes of flossing each day.
While flossing is great for your teeth and gums, it may also be good for your body. There's growing evidence of the link between periodontal diseases and systemic diseases like cardiovascular diseases, diabetes, pneumonia and even obesity. While the research is ongoing, some experts think that the link lies in the inflammation caused by oral bacteria. Yet by simply flossing every day, you can remove that bad bacteria and reduce your risk for those health conditions.
Flossing is vital for everyone at every age, but some are more vulnerable to tooth decay and gum disease. People with serious health conditions or on medications may have lower levels of saliva. Since saliva continually cleanses the mouth of bacteria, a lower level means less protection, so flossing is especially important if you're dealing with these concerns. If you experience these health conditions, talk to an expert in family dentistry for guidance on good dental care.
Now that you know the need for flossing, you need to know the right way to floss. Take a long length of floss and gently bring it toward the base of the tooth and then carefully pull it along each side. This will ensure that you're reaching and removing the plaque and particles from every crevice. Repeat this gentle motion on every tooth with a fresh section of floss.
If you repeat this process every day, then flossing will soon become a healthy habit you won't want to live without.
To learn about our family dentistry practice in Dalton, call today at or make an appointment. 
offers affordable family dentistry and gentle, compassionate dental care in Dalton. Our office is conveniently located with extended hours to meet your needs. At , we provide most dental services, from basic preventative care and general dentistry to specialized procedures and complete dental reconstruction. We accept most dental insurance plans and offer affordable financial solutions for any budget. Patient satisfaction is our top priority and we strive to provide the exceptional, affordable dental care and personal touch that lead to lasting relationships. A smiling patient is our greatest reward and we look forward to keeping those smiles healthy, beautiful, and bright. Discover an affordable dentist who truly cares at .