Posted under:
General
Posted on: October 8, 2015
Which Treatment for Gum Disease is Right for You?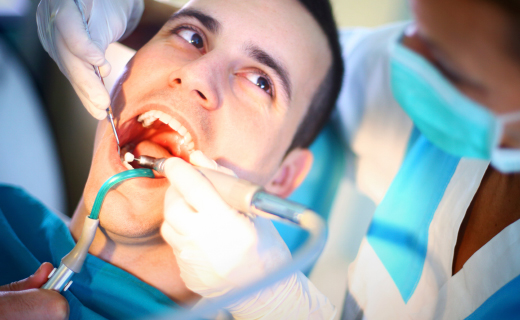 Periodontal or gum disease is usually the result of long-term deficiencies in oral hygiene. The earliest stage, called gingivitis, can often be reversed with treatment. Your dentist or periodontist can manage or prevent progression of more advanced gum disease using a variety of treatment methods that include deep cleaning methods, surgery and drugs. Your response to previous treatments and your overall oral and general health determine which types of treatments will be most effective. Listed below are a few ways your dental care provider can help you win the war against gum disease and tooth loss.
Non-Surgical Treatment for Mild to Moderate Gum Disease
Non-invasive treatment for gum disease involves removing the plaque and tartar that has built up on the tooth surface. If you have mild periodontal disease, a simple professional teeth cleaning may be sufficient. When tartar extends beneath your gums, scaling and root planing is usually required. During these procedures, hardened tartar and bacteria is scraped away from the area beneath the gum line, and rough spots on the roots of your teeth are made smooth so that your teeth can more easily reattach to gum tissues.
Surgical Treatment for Gum Disease
If non-invasive treatment isn't enough, the following surgical procedures can help manage periodontal disease:
Guided tissue regeneration
Soft-tissue grafts
Bone grafts or surgery
Gum-flap surgery
Periodontal pocket reduction
Drug Therapies for Periodontal Disease
Antibiotics and antimicrobial treatments may be used alone or in conjunction with other therapies; these products include oral antibiotics, mouth rinses, special toothpastes or medicine-filled chips inserted into periodontal pockets after root planing.
Periodontal procedures and treatments are typically performed by a general dentist or periodontal specialist with the use of local anesthetics. No special preparations are required on the patient's part. You can't afford to neglect your oral health when affordable dental care is within your reach. Don't wait until gum disease destroys your smile; make an appointment today with your family dentist in Dalton.
To learn about our family dentistry practice in Dalton, call today at or make an appointment.
offers affordable family dentistry and gentle, compassionate dental care in Dalton. Our office is conveniently located with extended hours to meet your needs. At , we provide most dental services, from basic preventative care and general dentistry to specialized procedures and complete dental reconstruction. We accept most dental insurance plans and offer affordable financial solutions for any budget. Patient satisfaction is our top priority and we strive to provide the exceptional, affordable dental care and personal touch that lead to lasting relationships. A smiling patient is our greatest reward and we look forward to keeping those smiles healthy, beautiful, and bright. Discover an affordable dentist who truly cares at .