Posted under:
General
Posted on: May 31, 2013
What's the story behind wisdom teeth?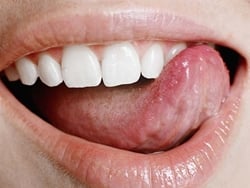 What do you know about wisdom teeth? While many people have experienced the pain that can come with having these teeth descend into their mouths and having them removed, not everyone gets wisdom teeth. Some people may not understand what wisdom teeth are or why they need to have them removed.
Wisdom teeth are third molars that are the last of your teeth to develop. They usually come in between the ages of 17 and 25. While you need the rest of the teeth in your mouth, you don't need your wisdom teeth. According to Science Line, a New York University science, health and environment news source, anthropologists believe that wisdom teeth existed to help our ancestors chew the coarse leaves, roots, nuts and raw meat that made up the human diet many years ago. As we evolved and changed our eating habits, there was no longer a need for these teeth.
Why get them removed?
Once your wisdom teeth start to come in, you'll know, because it can be quite a painful process. You probably don't remember the pain of teething when you were a baby, but it is quite an uncomfortable process, and the same is true when your wisdom teeth come in. Most of the time, your wisdom teeth will be impacted. This means that they are unable to fully break through the gum line because there is no room left in your mouth due to all your other teeth.
According to the American Association of Oral and Maxillofacial Surgeons (AAOMS), if an impacted tooth is left in your mouth it could damage the teeth around it or become infected. This molar is very difficult to clean because this molar is in an awkward place in your mouth. This can cause gum disease and lead to infections and illnesses that can affect the heart, lungs and other organs.
Studies have shown that  8 in 10 young adults who kept their wisdom teeth experienced dental issues within seven years. These issues can be quite costly to fix, especially if they require gum surgery or a root canal. This is why it may be a better idea to simply have wisdom teeth removed early on.
If these aren't enough reasons to get your wisdom teeth out, AAOMS adds that in some cases,  fluid-filled cyst or tumor can form around an untreated wisdom tooth. As it grows, this cyst can lead to serious problems by hollowing out the the jaw and damaging the surrounding nerves and teeth.
What if there's no pain?
Occasionally, wisdom teeth will come in and not cause pain, or problems to the adjacent teeth. However, you should still head to a dentist to get the situation checked out.
"Ideally, you should ask your dentist if he or she foresees any problems with your wisdom teeth and if you should be evaluated by a surgeon,"  Richard Scheetz Jr., D.D.S., an oral surgeon who practices at Dublin's Oral and Facial Surgeons of Ohio told Deintisty IQ.
Furthermore, AAOMS states that even wisdom teeth that come in normally and do not cause pain can still be prone to disease because of their position in the mouth.
In certain cases, wisdom teeth that have erupted and are functional, free of cavities and are not causing any problems with the surrounding teeth or gum tissue may not need to be removed. However, the bottom line is you should always go to the dentist when you feel your wisdom teeth coming in to make sure that everything is in good shape.