Posted under:
General
Posted on: June 3, 2013
What's the difference between dental insurance and dental savings plans?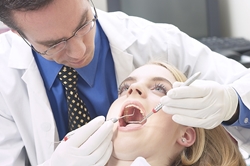 You know how expensive dental care can be, and you want to keep your mouth healthy without breaking the bank. With this in mind, it seems as though dental insurance, which, for adults, is not covered under the Affordable Care Act or Medicare, is a must.
However, dental insurance may not be the best way to save money on dental care. A dental savings plan, which you can sign up for independently or with your family, might be the best way to find affordable dental care.
What is a dental savings plan?
With dental insurance, you pay a set amount each month and know that every time you visit the dentist, your care is either partially or completely paid for by insurance. With a dental savings plan, you pay a sign-up fee, then a discounted rate each time you visit the dentist. For example, one dental savings plan, DentRite, costs $30 for an individual to sign up and $50 for a family. Each cleaning costs only $10, which means a single adult who signs up for this plan might only pay $50 a year for healthy teeth and gums. Other procedures, such as an emergency exam, X-rays, and preventative care like sealants and topical fluoride only cost between $10 and $30. To renew the plan each year, you pay just $25 as an individual or $40 as a family.
Am I a good candidate for a dental savings plan?
The true value of a dental savings plan depends on your oral health. If you are generally healthy and only need cleanings each year, a dental savings plan could offer you significant savings. Forbes Magazine recommends it for seniors who have retired, since it is likely less expensive than individual dental insurance (not part of a company's plan). This type of plan might also be good for single individuals or those with young children who will likely be in good dental health.
What should a dental savings plan cover?
When examining a dental savings plan over regular dental insurance, look to see which procedures and services are covered. For example, a dental savings plan should cover all exams and diagnoses, cleanings, fillings, crowns, and oral surgery. Some plans might offer a discount on more specialized procedures like implants and gum disease care.