Posted under:
General
Posted on: April 30, 2015
Unlearn Your Own Dental Phobia to Help Your Kids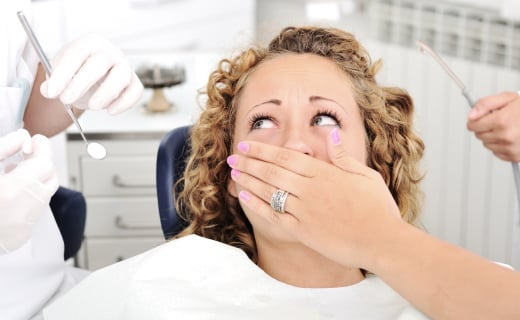 If your heart races and your palms get sweaty whenever you think about having a cavity filled, you suffer from a common problem known as dental anxiety. The fear of a whining dental drill and the idea of sitting helplessly in a big chair while being poked and prodded prevents many people from addressing dental problems in a timely manner. If you're a Baby Boomer, you may have had more cavities and more frequent dental visits than your kids, and you didn't have the benefit of today's advanced technologies and anesthetic options.
Dental Anxiety Is a Learned Behavior
A new study from Delta Dental Plans, which was released in April for National Anxiety Month, shows that parents who are afraid of the dentist can unintentionally transfer their dental phobia to their kids. Results demonstrated that the number of parents who reported dental fear matched the number of kids who had the same problem. It's important to remain calm during dental visits, and present dental care in a positive light when discussing it with your children. If you conquer your own fear of the dentist, your kids won't become terrified and avoid getting proper dental care later in life. Here are a few ways you can unlearn your fear and overcome your dental phobia.
Tips for Battling Your Fear of the Dentist
Talk to your dentist about your dental anxiety, so he or she can take extra care to make you comfortable. Don't be embarrassed. Having a fear of the dentist is very common.
If your dentist isn't sympathetic to your concerns, find one who specializes in treating patients with dental anxiety. Ask your family and friends for recommendations.
Schedule appointments when you don't feel rushed. If you tend to feel nervous all day before a scheduled visit, opt for early morning appointments.
Bring along a distraction. A portable audio player or a smartphone can keep you distracted during treatment. Using headphones can help alleviate fear associated with dental drill noises.
If your anxiety is severe, ask your dentist about pain control and sedation dentistry.
To learn about our family dentistry practice in Dalton, call today at or make an appointment.
offers affordable family dentistry and gentle, compassionate dental care in Dalton. Our office is conveniently located with extended hours to meet your needs. At , we provide most dental services, from basic preventative care and general dentistry to specialized procedures and complete dental reconstruction. We accept most dental insurance plans and offer affordable financial solutions for any budget. Patient satisfaction is our top priority and we strive to provide the exceptional, affordable dental care and personal touch that lead to lasting relationships. A smiling patient is our greatest reward and we look forward to keeping those smiles healthy, beautiful, and bright. Discover an affordable dentist who truly cares at .