Posted under:
General
Posted on: March 23, 2015
Understand the Painful Problem of an Abscessed Tooth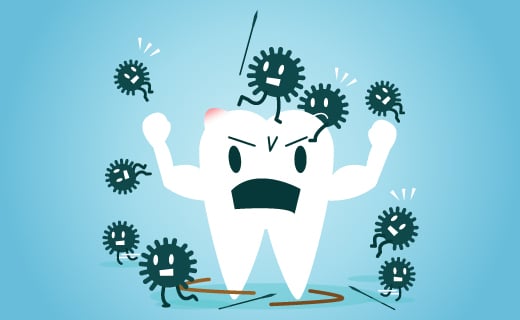 If you're constantly faced with sharp pangs of tooth pain, you may have an infection either in or around that tooth. This is called an abscessed tooth. If the painful infection isn't treated, it may worsen and cause you to lose the tooth, as well as spread and lead to other health issues. Luckily, the problem can be relieved and resolved by seeking affordable dental care.
Causes of an Abscessed Tooth
An abscessed tooth can have a variety of causes. Damage to the tooth is a common cause, but an untreated cavity can also become infected and that bacteria can spread from the tooth to the surrounding tissue to create an abscess. And gum disease can make the gums pull away from the teeth, creating pockets where bacteria can grow and form a painful abscess.
Signs and Symptoms
While extreme tooth pain is the first and fiercest sign of an abscessed tooth, these other symptoms may also point to the problem:
Severe pain, often when chewing
A throbbing toothache
Swollen, red gums
Face and jaw swelling
Fever
An unpleasant salty taste in the mouth
A tooth that's extremely tender to the touch
A swollen, oozing, red bump in your mouth
While the pain may subside as the infection spreads, be aware that this is actually worsening the problem because it's causing the bone to dissolve and may lead you to lose the tooth.
Treatment Tactics
Don't ignore an abscessed tooth, especially since an affordable dentist can provide the relief you need in the following ways:
Prescribe antibiotics to kill the bacteria causing the infection.
Completely drain the infection to soothe the pain.
Remove the infected tissue within the tooth with a root canal.
Pull the abscessed tooth if you do not want a root canal or that procedure doesn't remove all of the infected tissue.
Prevent the Problem
Fortunately, you have affordable dental care options that can treat an abscessed tooth, but you can prevent the pain completely by following these good dental care habits:
Have routine check-ups and cleanings from an affordable dentist.
Brush your teeth twice a day with a fluoride toothpaste.
Floss every day to remove food and bacteria that can cause an abscess.
Avoid sugary foods and drinks.
Your risk for cavities and infections increases with a dry mouth, so keep your mouth moist by drinking plenty of water, chewing sugarless gum, or taking dry mouth medication.
To get the dental care you deserve from an affordable dentist in Dalton, call today at or make an appointment.
offers affordable family dentistry and gentle, compassionate dental care in Dalton. Our office is conveniently located with extended hours to meet your needs. At , we provide most dental services, from basic preventative care and general dentistry to specialized procedures and complete dental reconstruction. We accept most dental insurance plans and offer affordable financial solutions for any budget. Patient satisfaction is our top priority and we strive to provide the exceptional, affordable dental care and personal touch that lead to lasting relationships. A smiling patient is our greatest reward and we look forward to keeping those smiles healthy, beautiful, and bright. Discover an affordable dentist who truly cares at .