Posted under:
General
Posted on: April 23, 2015
Tooth Decay, Dental Caries and Affordable Dentists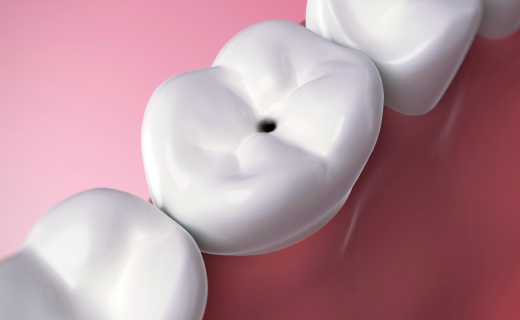 To understand how cavities occur, it helps to start with a basic idea of how tooth anatomy works. Your teeth are made up of several layers. The outer layer is called enamel, and it is the toughest substance in your body. Underneath your gum line, cementum covers each of your teeth's roots. The next layer is known as dentin. It has some nerve endings, but not as many as the core underneath, which is called the pulp. A mature tooth's pulp serves only to warn us of damage or infection. It does so by transmitting the sensation of pain.
How Cavities Attack
Food trapped in the irregular grooves and pitted areas of your teeth's chewing surfaces is often a root cause of decay. The damage soon spreads from their thin enamel surfaces to the tooth's underlying dentin. Another way a cavity attacks is from smoother surfaces between teeth or on the front and back. The affected area is usually wide and comes to a point at the entrance to deeper layers of the tooth.
How Your Dentist Finds and Treats Tooth Decay
Visual exams and use of small probes assist your dentist in finding cavitations. X-ray examinations, especially bitewing x-rays, reveal caries wedged between teeth and under the gum line. When these methods don't reveal enough information, your dentist may use a disclosing solution to test suspicious areas. If a cavity extends into the dentin, treatment is necessary. The two-part goal of cavity treatment includes removing decay and replacing it with a filling material. After injecting a local anesthetic, your dentist uses a high-speed dental drill to remove all decayed portions of the tooth and prepare it for a filling. A liner is often inserted into the tooth to reduce sensitivity. Base cements may be added to deeper fillings for temperature insulation. The actual filling is usually made from amalgam, resin, porcelain or gold. Fillings are layered on top of the liner to rebuild its structure.
Preventing Cavities
While affordable dentists can repair most decayed teeth, cavity prevention is always preferable. The easiest way to avoid the dental drill is to maintain excellent oral hygiene. Brush at least twice every day, and floss once daily. Avoid or limit sugary snacks and drinks, and visit your dentist regularly.
To learn about our family dentistry practice in Dalton, call today at or make an appointment.
offers affordable family dentistry and gentle, compassionate dental care in Dalton. Our office is conveniently located with extended hours to meet your needs. At , we provide most dental services, from basic preventative care and general dentistry to specialized procedures and complete dental reconstruction. We accept most dental insurance plans and offer affordable financial solutions for any budget. Patient satisfaction is our top priority and we strive to provide the exceptional, affordable dental care and personal touch that lead to lasting relationships. A smiling patient is our greatest reward and we look forward to keeping those smiles healthy, beautiful, and bright. Discover an affordable dentist who truly cares at .