Tips for Adjusting to Permanent Dentures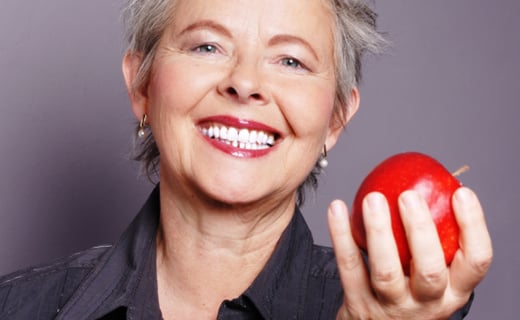 There is no denying that properly fitting dentures can work wonders for your appearance and can be also essentially undetectable. They really are a terrific solution to a wide range of dental problems, and have undergone dramatic improvements over the past several decades. Of course, there is an adjustment phase involved for new denture wearers, and a bit of initial soreness is to be expected. But, by working in conjunction with an affordable dentist and following the tips below, the transition can be surprisingly smooth.
If you are just starting out with dentures, you are sure to find that eating takes a bit of practice at first. You will probably want to stick to a diet of soft food items initially, taking care to chew on both sides of the mouth equally. Gradually, you will be able to introduce a wider variety of food textures. Sticky and excessively chewy foods ought to be limited, however. In time, as your tongue and cheeks become acclimated to the dentures, they will help to keep the dentures where they need to be.
Speaking is also something that requires practice at first, but will begin to feel more natural in time. Laughing and yawning may sometimes cause the dentures to dislodge, and this can be an indication that professional denture adjustments may be required. It is also important to note that your dentures may cause an increase in saliva production initially, but this will normalize before you know it.
Dentures are typically worn throughout the daytime hours and removed in the evening to allow sensitive tissues to rest. However, during the first few days with a new set of dentures, it is important that they be worn around the clock in order to determine whether any adjustments are necessary.
When it comes to caring for your permanent dentures, proper cleaning and maintenance must take center stage. When not in use, dentures should soak either in water or in a cleaning solution formulated for that very purpose. They must not be put into hot water, as they can easily warp or suffer serious damage. Dentures also need to be cleaned each day with a soft-bristled toothbrush, water, and soap. Rinsing your mouth when the dentures are not in place is also essential to remove plaque and reduce infection risk.
To get the dental care you deserve from an affordable dentist in Dalton, call today at or make an appointment.
offers affordable family dentistry and gentle, compassionate dental care in Dalton. Our office is conveniently located with extended hours to meet your needs. At , we provide most dental services, from basic preventative care and general dentistry to specialized procedures and complete dental reconstruction. We accept most dental insurance plans and offer affordable financial solutions for any budget. Patient satisfaction is our top priority and we strive to provide the exceptional, affordable dental care and personal touch that lead to lasting relationships. A smiling patient is our greatest reward and we look forward to keeping those smiles healthy, beautiful, and bright. Discover an affordable dentist who truly cares at .