Posted under:
General
Posted on: October 2, 2012
Three things you should know about dental veneers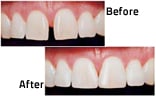 So you recently decided to get veneers, but you're not really sure what's involved in the process. Before you head in for this procedure, here's a little background information on what you should know about dental veneers.
Their purpose
Let's start with the purpose of veneers. These devices are designed to fit over your teeth to serve as a protective covering. Once fitted, veneers can help correct the look of chipped teeth, brighten smiles and fix other corrective issues. While their counterparts, lumineers®, can be removed, veneers are a more permanent option.
The procedure
In order to create a set of veneers for your mouth, your dentist must take a series of impressions to replicate your teeth. It is also sometimes necessary to grind down and remove portions of the surface of your teeth for the veneers to fit correctly.
Maintenance
Once you have your veneers, you should be careful about protecting your teeth. Veneers can chip or crack if used to bite tough foods, and they can also stain easily without regular cleaning and care. Make sure to speak to your dentist about proper maintenance procedures.