Teeth Bleaching and Bonding – Two Ways to Get a Perfect Smile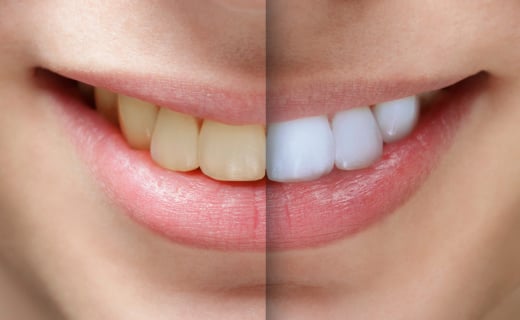 If you see yellow teeth when you look in the mirror, you're not alone. Your natural tooth color is affected by a variety of factors throughout your life including your tobacco habits, the foods and beverages you consume, and the accumulation of hardened tartar deposits. Trauma to a tooth that causes nerve death will also result in discoloration. The process of aging discolors your teeth, too. It's even possible to be born with teeth than are more yellow or gray than usual. You may not be able to control all causes of discoloration, but teeth bleaching and bonding can give you a gleaming white smile.
How Does Teeth Whitening Work? 


Teeth whitening or bleaching can be performed either at home or your dentist's office. Teeth bleaching whitening gels containing carbamide peroxide work by oxidizing stains. At-home whitening begins with your dentist making an impression of your teeth to create custom-fitted trays that maximize your tooth enamel's exposure to the whitening gel. To treat your teeth at home, you'll fill the trays with gel, and wear them for about two hours. This process is repeated daily for several weeks. When supervised by your dentist, at-home whitening delivers great results.
In-office teeth bleaching costs more, but the results are immediate and more dramatic. Before your dentist applies the bleaching formula, he or she will protect your gums with a gel or a rubber shield. After the bleach is applied directly to your teeth, a special light is used every five minutes to activate and accelerate the bleaching agent. To maintain the results of your newly whitened teeth longer, avoid foods and beverages that stain teeth such as coffee, tea, red wine, and berries. Brush your teeth with a whitening toothpaste formula, and refrain from smoking.
Bonding Teeth: An Alternative for Stubborn Discoloration


If whitening procedures aren't enough, bonding can restore your smile to perfection. Bonding teeth with composite materials involves shaping and preparing your natural tooth, matching your tooth color, and applying a thin layer of composite resin to the entire surface. The new veneer is then shaped and cured with a special light. Porcelain veneers are created in a lab using impressions of your teeth. Both techniques provide an effective way to make unsightly stains a memory.
To get the dental care you deserve from an affordable dentist in Dalton, call today at or make an appointment.
offers affordable family dentistry and gentle, compassionate dental care in Dalton. Our office is conveniently located with extended hours to meet your needs. At , we provide most dental services, from basic preventative care and general dentistry to specialized procedures and complete dental reconstruction. We accept most dental insurance plans and offer affordable financial solutions for any budget. Patient satisfaction is our top priority and we strive to provide the exceptional, affordable dental care and personal touch that lead to lasting relationships. A smiling patient is our greatest reward and we look forward to keeping those smiles healthy, beautiful, and bright. Discover an affordable dentist who truly cares at .