Staving Off Tooth Sensitivity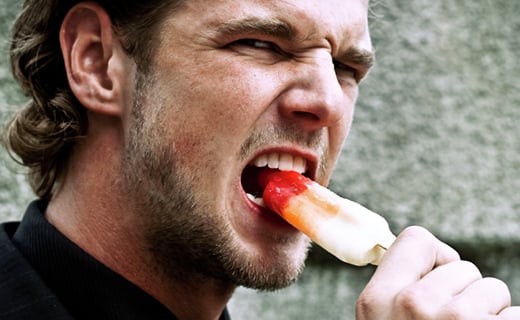 The experience of feeling an instantaneous wave of pain or tooth sensitivity in one or more teeth is something that most people can relate to. In fact, this sensation tends to occur most frequently when having very hot or very cold foods or drinks, although pressure on the teeth can also produce a similar result. In order to successfully identify, prevent, and treat tooth sensitivity, it is important to have a dentist in Dalton determine whether your sensitive teeth are caused by dentinal or pulpal sensitivity.
Dentinal tooth sensitivity occurs when the dentin, the tooth's middle layer, becomes exposed. Normally, the dentin is completely covered by the tooth's enamel above the gumline and by cementum, which is below. Dentin is made up of tiny tubes called tubules, which contain nerves attached to the tooth's pulp. When the exposed dentin comes into contact with extreme temperatures from hot or cold foods and beverages, the nerves become irritated, causing painful tooth sensitivity.
Exposure of the dentin can be caused by overly vigorous tooth brushing, tartar buildup due to poor dental care, tooth decay, the wearing down of the teeth over many years, damaged fillings, tooth whitening, and frequently consuming of acid-containing foods and beverages.
Pulpal tooth sensitivity typically affects only one tooth when its nerves become irritated. Common causes of pulpal sensitivity include active tooth decay, untreated infection, cracks in the tooth, pressure from teeth grinding, and recent dental work.
Both dentinal and pulpal sensitivity are characterized by painful reactions to pressure and extreme temperatures. Sensitivity to cold is most typical, and sensitivity to hot foods and beverages may indicate the need for a root canal. For a proper diagnosis of tooth sensitivity, see an affordable dentist in Dalton who will ask for a full dental history, take x-rays, and perform an examination to identify the cause of your sensitive teeth.
Family dentistry experts recommend dental care techniques that can reduce the risk of developing dentinal sensitivity and treat existing symptoms, including brushing twice a day with a soft-bristled toothbrush, flossing once a day, using dental care products designed to treat sensitive teeth, and seeking treatment for teeth grinding.
Although pulpal sensitivity cannot be prevented, its symptoms can be eliminated, if necessary, with a root canal performed by a skilled, affordable dentist.
To get the dental care you deserve from an affordable dentist in Dalton, call today at or make an appointment.
offers affordable family dentistry and gentle, compassionate dental care in Dalton. Our office is conveniently located with extended hours to meet your needs. At , we provide most dental services, from basic preventative care and general dentistry to specialized procedures and complete dental reconstruction. We accept most dental insurance plans and offer affordable financial solutions for any budget. Patient satisfaction is our top priority and we strive to provide the exceptional, affordable dental care and personal touch that lead to lasting relationships. A smiling patient is our greatest reward and we look forward to keeping those smiles healthy, beautiful, and bright. Discover an affordable dentist who truly cares at .