Posted under:
General
Posted on: May 27, 2015
Sensitive Teeth – The Cold Facts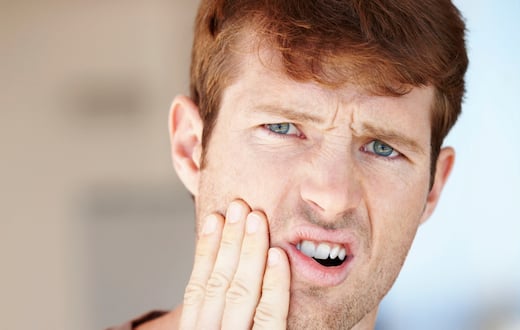 Sensitive teeth can make everyday activities like eating and drinking miserable. Hot and cold foods like ice cream and coffee can both trigger shooting pain. Brushing and flossing your teeth can hurt. On cold days, even breathing through your mouth can lead to discomfort. Tooth sensitivity is usually a result of dentin exposure. Dentin is a layer of your inner tooth that contains many tiny canals that lead to the nerve endings in the tooth's root. The mysterious pain occurs when exposed dentin comes into contact with sweet or acidic foods and extreme temperatures.
What Are the Causes of Sensitive Teeth? 


One of the most common causes of tooth sensitivity is periodontal disease. Other causes include use of whitening products, tooth decay, cracked or fractured teeth, worn tooth enamel, defective fillings, and receding gums caused by aggressive brushing habits.
Can I Prevent Teeth
Sensitivity?
Even though you can't control all causes of sensitive teeth, you can prevent some. To prevent gum disease and tooth decay that eventually leads to tooth sensitivity, practice excellent oral hygiene. Use a soft-bristled toothbrush, and brush your teeth gently, especially around the gum line. Visit your dentist on a regular basis to obtain routine exams and professional teeth cleanings. If problems are detected at an early stage, it is easier for your dentist to resolve them before problems like tooth sensitivity develop.
Is There a Treatment for Teeth Sensitivity? 


Luckily, there are treatments available to help you control symptoms if you're already suffering from tooth sensitivity. Over-the-counter desensitizing toothpaste works by preventing sensation from traveling to nerve tissues. It may take several applications to produce significant results. If your problem doesn't respond to toothpaste, you may want to consider professional treatment for teeth sensitivity, which includes options like desensitizing agents applied to teeth or restorative procedures like fillings, teeth bonding, or root canal treatment.
To learn about our family dentistry practice in Dalton, call today at or make an appointment.
offers affordable family dentistry and gentle, compassionate dental care in Dalton. Our office is conveniently located with extended hours to meet your needs. At , we provide most dental services, from basic preventative care and general dentistry to specialized procedures and complete dental reconstruction. We accept most dental insurance plans and offer affordable financial solutions for any budget. Patient satisfaction is our top priority and we strive to provide the exceptional, affordable dental care and personal touch that lead to lasting relationships. A smiling patient is our greatest reward and we look forward to keeping those smiles healthy, beautiful, and bright. Discover an affordable dentist who truly cares at .