Redesigning Dentistry to Relieve Fears and Phobias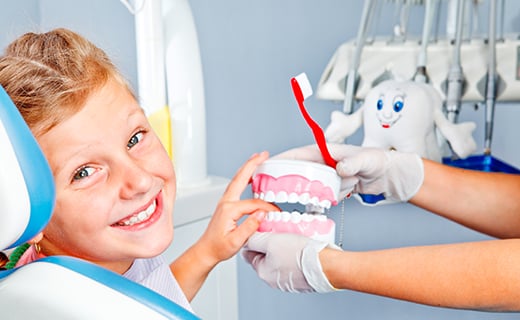 A trip to the dentist can drum up deep-seated fears in the hearts and minds of many people —around 45 million in the U.S. alone— if you want to be exact. Dental fears and phobias can keep people from caring for their teeth, a dangerous game considering that poor dental care not only impairs your smile, it can destroy your overall health as well.  In an effort to combat the health risks of dental fears and phobias, some dental care professionals are redesigning the way they practice dentistry, by striving to address the common woes that scare many people away from the dentist. If you or someone you know suffers from dental fears or phobias, review these tips to discover a whole new form of dentistry that is nothing to be afraid of.
A dental phobia is the physical response of an afflicted person's body that tells them something isn't right. Although these people may have no control over their severe dental fears, it is important to try to overcome them because of the toll they take on oral health and well-being in general. Many family dentistry experts are finding ways to treat even the most frightened patients, so if you suffer from dental fears, you can find a compassionate, affordable dentist in Dalton to help.
Dentophobia and odontophobia are technical words that simply mean fear of the dentist. People afflicted with dental fears find a visit to the dentist to be just about the worst thing they can imagine. Dental care experts say that dentophobics experience a physical fight-or-flight response that makes it impossible for them to sit in the dentist's chair.
Is there a solution for dental fears?
Many dentists are turning their practices into "dental spas," where dentophobics can feel secure. Offering services that include sedation dentistry or general anesthesia, the dental office environment is designed to be calm and relaxing, like a spa.
One New York dentist specializes in helping people who have extreme dental fears and phobias. Some of his patients have dental fears that go back to a traumatic dentist experience in their youth, a past dental procedure that went wrong, or a previous discomfort, such as having difficulty breathing during a dental procedure. Since many dentophobics go years between dental appointments, their check-ups are typically more extensive, which exacerbates their dental fears.
Family dentistry experts have tips to get patients into the office and then through their dental check-up. A Swedish study found the following five coping practices to be the most helpful in overcoming phobias and dental fears:
1.    Distance. Distance yourself from the experience by imagining the pain is another, more pleasant sensation
2.    Distraction. Count, tell yourself a story, or play a mental game with yourself
3.    Meditation. Pray, chant, or otherwise take your mind away from the situation
4.    Self-efficacy. Seek inner strength by speaking encouraging words to yourself
5.    Optimism. Remind yourself that everything will be fine
To truly reduce your fear, practice prevention. The more diligently you practice proper dental care throughout the year, including bi-annual check-ups with your family dentistry team, the less "scary" your dental appointments will be.
To get the dental care you deserve from an affordable dentist in Dalton, call today at or make an appointment.
offers affordable family dentistry and gentle, compassionate dental care in Dalton. Our office is conveniently located with extended hours to meet your needs. At , we provide most dental services, from basic preventative care and general dentistry to specialized procedures and complete dental reconstruction. We accept most dental insurance plans and offer affordable financial solutions for any budget. Patient satisfaction is our top priority and we strive to provide the exceptional, affordable dental care and personal touch that lead to lasting relationships. A smiling patient is our greatest reward and we look forward to keeping those smiles healthy, beautiful, and bright. Discover an affordable dentist who truly cares at .