Reasons and Remedies for Tooth Discoloration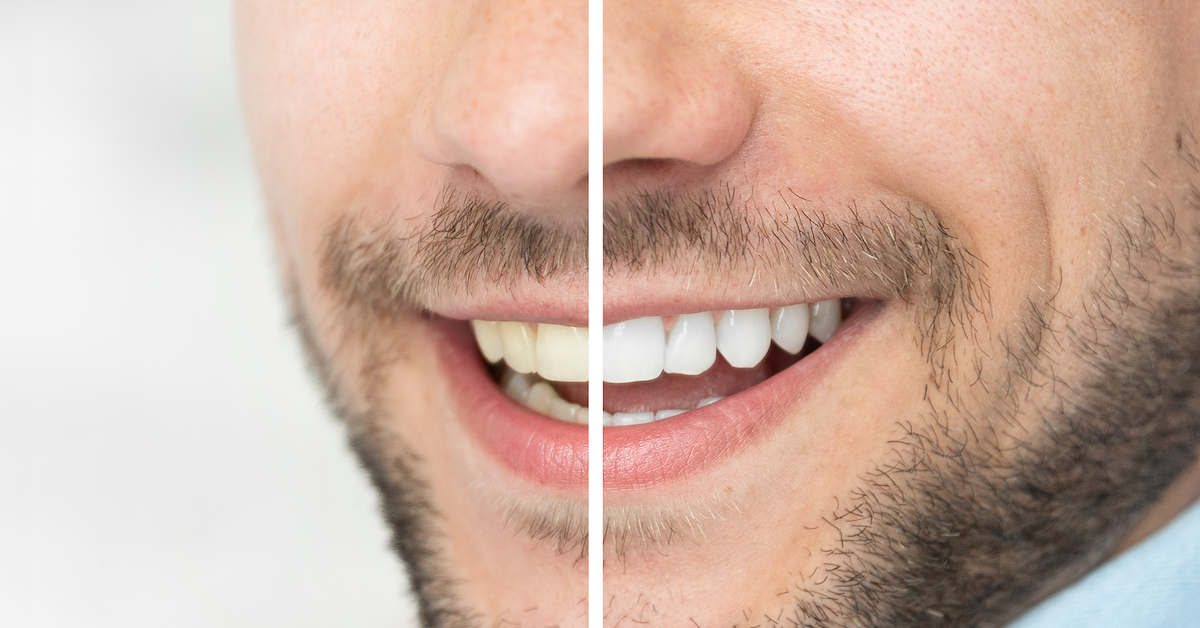 Are you tired of being embarrassed about a discolored tooth or a mouth full of yellowed teeth? If so, you can learn more about the causes and discover treatments that can help you smile with confidence once again.
What Are the Most Common Causes of Tooth Discoloration?
The most common reason is age, since almost everyone's teeth yellow as they get older. The enamel wears down, exposing the yellow dentin underneath. Eating a healthy diet that is low in sugar and refined carbs will help keep enamel healthy.
There is intrinsic staining, which is discoloration deep inside the tooth. There are certain medications, such as exposure to tetracycline in utero, that discolor the insides of teeth. Illnesses, such as eating disorders, liver disease and celiac disease, can also cause intrinsic staining.
Extrinsic staining, which is staining of the outermost tooth layer, the enamel, is more common and more treatable. Tobacco use, poor dental hygiene, and staining foods are the most common reasons people seek treatment for stained teeth.
Foods and Beverages That Can Sabotage Your Smile
Don't sabotage your pearly whites with these staining foods and beverages. If you are going to eat them, consider brushing your teeth at least 60 minutes afterwards.
Coffee and dark teas
Red Wine and dark soda
Grape and cranberry juice and other dark colored fruits, like beets, blueberries, cherries and pomegranates
Sugar-filled foods like slushies and popsicles and ice cream
High-acidic foods like tomato sauce
Soy sauce
Balsamic vinegar
Curries
You don't have to completely avoid these foods and beverages. While drinking these foods, use a straw to avoid dark drinks touching your front teeth. Brush, rinse with water, or chew sugarless gum after consuming them to mitigate the damage.
Foods and Beverages That Can Brighten Your Smile
These foods can help brighten your teeth:
Pears and Apples
Raw broccoli, carrots, and celery
Yogurt, milk, and cheese
Seeds and nuts
Pineapples
Strawberries
Is Smoking Ruining Your Bright Smile?
Smoking and smokeless tobacco use can ruin an otherwise perfect smile. Consider quitting if you have not already, and remember, it's not just your teeth at stake. Smoking can lead to numerous other problems.
The Truth About Smoking and Your Teeth
Smoking can lead to multiple dental problems besides stained teeth. Smokers and smokeless tobacco users often have bad breath and a higher risk of developing oral cancer and gum disease. Tobacco users also take longer to heal after dental surgeries, such as extractions and implant placement.
What Can Smokers Do to Help Keep Their Teeth Bright?
Smokers have a more challenging time keeping their teeth bright, but these suggestions will help:
Be diligent in your dental hygiene, make sure to brush and floss at least twice a day.
Have a dental exam and professional cleaning twice a year.
Brush after smoking or using smokeless tobacco.
Eat a healthy diet containing foods that brighten teeth.
What's the Easiest Way for Tobacco Users to Whiten Their Teeth?
Most tobacco users try OTC whitening products first. Unfortunately, many of these products can only lighten teeth by one or two shades. For chronic smokers, this isn't enough to make a difference. A thorough dental cleaning and professional in-office teeth whitening treatment is the best way to get rid of yellow or brown tobacco stains. If a person continues to use tobacco afterward, the results will not last as long as if they would quit.
Tips for Preventing Teeth Staining for All Ages
You can help fight teeth staining by:
Brushing every morning and evening, and after consuming foods or beverages that stain your teeth.
Floss your teeth once daily.
Use an antibacterial mouthwash that is ADA-approved for better protection.
Use a straw when drinking colas and slushies or other beverages that might stain your teeth or leave excess sugars in your mouth.
Have regular, routine dental exams, especially if you are a smoker or have other high risk factors for developing dental diseases.
Get your teeth cleaned twice a year by a dentist. Your dentist will be able to help you pinpoint problems with your teeth before they become serious issues. Don't delay in treating problems or visiting your dentist.
Teeth Whitening Choices for Pearly White Teeth
Are you looking for something to brighten your smile, consider these over-the-counter and dentist administered options:
Whitening toothpastes – these are commonly used by many in the U.S. Look for a brand that has an ADA seal of approval. While these types of whitening products will not give you dramatic results, they can help you achieve somewhat whiter teeth.
Whitening gels and whitening strips – these are similar to toothpastes and can cause sensitivity if not used correctly. Keep in mind you'll need to use them regularly to see any type of consistent result.
Whitening mouth rinses – normally these products provide the least amount of whitening as they remain on the teeth the least amount of time. If you are a smoker or have bad staining or discoloration, this is most likely not the right choice for you. OTC products in general can lighten teeth by one or two shades over time.
Dentist-provided tray whitening systems – when receiving trays from your dentist, keep in mind that the bleaching gel will be much stronger than an OTC brand. You will see much quicker and longer-lasting results than if you had simply purchased something from the pharmacy. Treatments offered by dentists can lighten teeth by eight to 10 shades.
In-office teeth whitening – by far the best and fastest option, these procedures are performed by dental professionals and you'll be able to see instant results in most cases.
Bonding and Veneers – when teeth are unresponsive to other methods of whitening, a dentist can use bonding or veneers to cover the teeth and create a whiter, brighter smile. Bonding and veneers cover teeth that can't be whitened because they have stains deep inside the tooth. If you already have restorations, they won't lighten with any of these treatments.
If you're interested in teeth whitening, talk to your dentist. He or she can help you determine the cause of your staining and what treatment would be right for you. You don't have to live with stained teeth.