Posted under:
General
Posted on: April 9, 2015
Oral Care Tips for Older Adults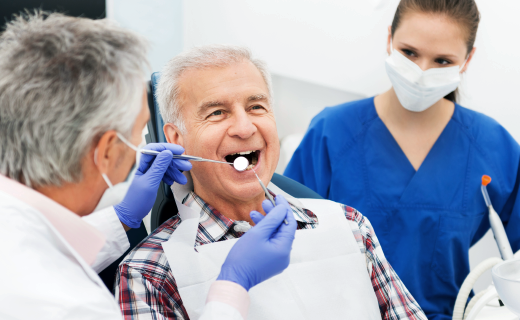 As you get older, you need to be wiser about caring for your teeth and gums. Some of the basics still apply, like brushing your teeth twice a day with a fluoride toothpaste, as well as flossing daily, and getting regular professional cleanings and check-ups. Along with practicing proper home oral care and seeking professional dental care, seniors need to give their smiles a little extra attention. Follow these words of dental care wisdom to make your smile seem ageless.
Dental Care for Seniors
The older you get, the more issues you have, but your dentist can help you help you handle all of your dental care concerns.
As you age, decay and cavities become more common, so it's important to maintain good dental care at home and have regular cleanings with an affordable dentist.
Tooth sensitivity is likely since gums tend to recede with age. If you experience sensitivity to food, beverages or cold air, try an anti-sensitivity toothpaste. If it's severe, see your dentist since it may be a sign of a more serious condition.
Dry mouth can be caused by medications and medical disorders. It can damage your teeth, so ask your dentist about treating and preventing the problem.
Be sure to tell your dentist about existing health conditions since they can affect your oral health.
At its earliest stages, gum disease is reversible, so get regular oral care check-ups to detect it early. You can lower your risk by eating well, practicing good oral hygiene, reducing stress and quitting smoking.
Improve Your Smile
If you have damaged or missing teeth, crowns and bridges can strengthen or replace them. Crowns can be used to support damaged teeth, as well as improve their appearance and alignment. Bridges are used to replace missing teeth. An affordable dentist can discuss your options and give you a better smile.
To learn about our family dentistry practice in Dalton, call today at or make an appointment.
offers affordable family dentistry and gentle, compassionate dental care in Dalton. Our office is conveniently located with extended hours to meet your needs. At , we provide most dental services, from basic preventative care and general dentistry to specialized procedures and complete dental reconstruction. We accept most dental insurance plans and offer affordable financial solutions for any budget. Patient satisfaction is our top priority and we strive to provide the exceptional, affordable dental care and personal touch that lead to lasting relationships. A smiling patient is our greatest reward and we look forward to keeping those smiles healthy, beautiful, and bright. Discover an affordable dentist who truly cares at .