Mission Impossible? Teaching Kids to Brush their Teeth Daily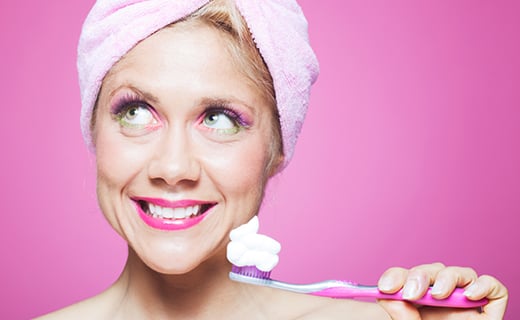 Whining, crying, screaming, and temper tantrums have somehow become synonymous with teaching young children to brush their teeth in many, many households.  This initial training in responsibility rapidly becomes an assertion of defiance as your child tests the rules of life. Sometimes, it's enough to cause parents to want to give up on teaching their children to brush their teeth daily, never mind twice a day. Of course, every parent knows that despite the battleground in the bathroom, good dental care must prevail. It may seem like "mission impossible," but these tips can help you preserve your child's smile and a lifetime of healthy dental care habits.
Start brushing early. As soon as your child's first tooth emerges, it's time to establish a dental care routine. You can get your child familiar with dental care by wiping your baby's gums with a damp washcloth after every feeding.
Make brushing fun from the beginning. Allow them to pick out their own toothbrush and toothpaste so they feel as if they are in control of brushing. They may pick a toothbrush that has their favorite character on it and then look forward to brushing.
Turn brushing into a game. Make it silly and fun for your child. Pretend to search for hidden food in your child's mouth: "Where are the eggs you ate for breakfast? They must be in here somewhere!" Or involve your child's favorite doll or stuffed animal in tooth brushing, allowing your child to brush their toy's teeth as well. You can play music to create a fun ambiance and ensure that your child brushes for the full two minutes each time.
Schedule strategic brushing times. Schedule brushing before a desirable activity, such as story time. Associating tooth brushing with activities your kids look forward to will improve the chances that they will brush without resistance.
Stay consistent. Schedule tooth brushing for the same time each night so your child will know what to expect and you can better instill the dental care routine.
Set goals and give rewards. Reward your child with a sticker each time they brush their teeth without a fuss. Set a goal to earn a prize, such as an extra bedtime story one night.
Be a good example. Children will mimic nearly everything you do, so if you practice good dental care, so will your child. Act enthusiastic about and share that with your child—including routine visits to an affordable family dentistry practitioner.
To learn about our family dentistry practice in Dalton, call today at or make an appointment.
offers affordable family dentistry and gentle, compassionate dental care in Dalton. Our office is conveniently located with extended hours to meet your needs. At , we provide most dental services, from basic preventative care and general dentistry to specialized procedures and complete dental reconstruction. We accept most dental insurance plans and offer affordable financial solutions for any budget. Patient satisfaction is our top priority and we strive to provide the exceptional, affordable dental care and personal touch that lead to lasting relationships. A smiling patient is our greatest reward and we look forward to keeping those smiles healthy, beautiful, and bright. Discover an affordable dentist who truly cares at .