Posted under:
Root Canal
Posted on: August 31, 2022
Learning From National Gum Care Month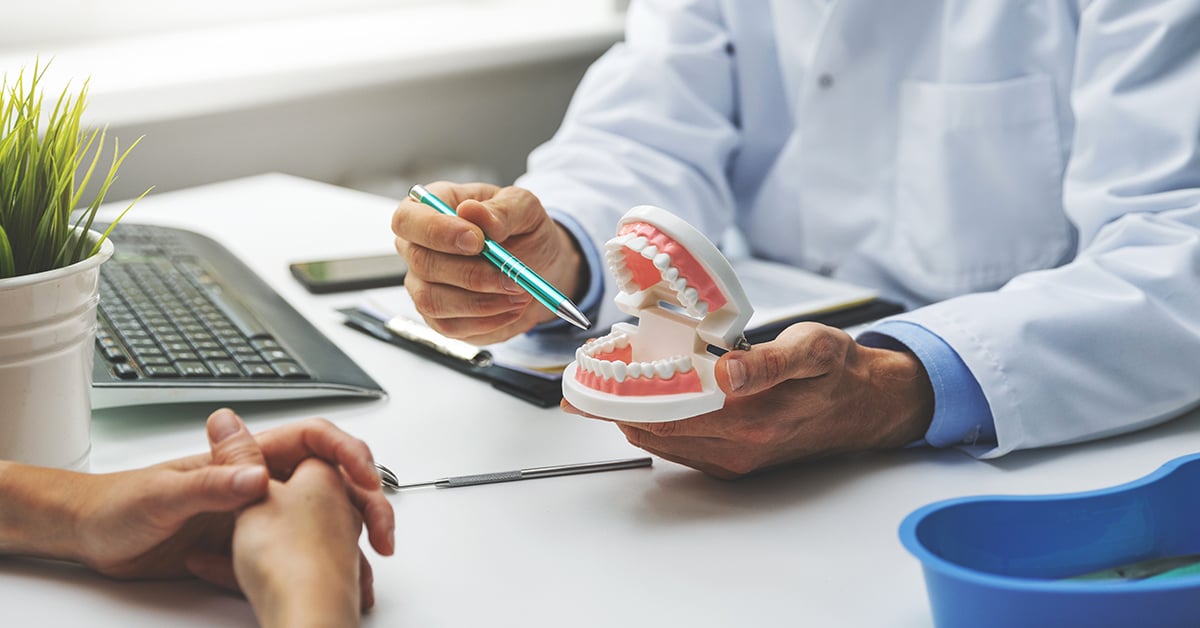 It's not uncommon for the medical community to claim certain months in the name of better health. For September, the dental community has dubbed it National Gum Care Month. As you can guess from the name, this month is all about spreading awareness about gum disease and the problems that it can cause. However, it's also about spreading awareness on how to prevent and treat gum disease.
The truth is that proper oral hygiene doesn't end with just cleaning teeth. You have to take the health of your gums into account as well. That said, how do you change your oral hygiene routine to support healthy gums? Better yet, how do you know if you have gum disease? Let's answer these questions and more.
Considering a dental cleaning and checkup? Call our office to schedule an appointment today and achieve healthier gums.
Improper Gum Care Leads to Gum Disease
How important is it to take care of your gums? As it turns out, it's just as important to care for your gums as it is your teeth. Failure to do so can lead to gum disease, which is also known as periodontal disease. Regardless of what you call it, this disease can lead to a number of other health-related issues that don't, at first, seem related to oral care. For example, gum disease can lead to heart disease, diabetes, and even stroke.
On top of that, gum disease can make you lose your teeth. Dentists say that the leading cause of most tooth loss for adults 35 years of age and older in the United States is gum disease. To make matters worse, it's a problem that can be avoided if more individuals practice better gum care habits.
How to Care for Your Gums Properly to Avoid Periodontal Disease
Your gums are the foundation for your teeth. Just like your home, your teeth are only as strong as their foundation. As such, knowing how to care for your gums to avoid periodontal disease is very important. The good news is that you probably already know or do many things that are good for your gums.
Proper gum care starts with a good oral hygiene routine. Thus, you will want to brush your teeth at least twice a day. While you are at it, make sure that you are flossing every day too. Removing food particles from between your teeth does wonders for preventing bacterial growth.
Of course, you can't care for your gums alone. No matter how great your home oral hygiene routine is, you will still need to visit your Dalton dentist from time to time. Only your dentist can get your teeth clean in a way that can prevent gum disease. Your dentist can also let you know if you have any early warning signs of gum disease.
Don't delay in seeing your dentist, call out office today to schedule a cleaning for healthier teeth and gums.
Knowing the Warning Signs That Indicate Gum Disease
Visiting your dentist is the only way to be sure that you have gum disease. That being said, there are some warning signs that you can watch out for that might indicate you need to visit your dentist to determine if you have gum disease. That's why learning about these warning signs is such an important part of National Gum Care Month.
Let's start with the most common signs of gum disease. These signs typically include red or swollen gums, gum sensitivity, and bleeding gums. Typically, bleeding occurs during or after brushing or flossing your teeth. There are, of course, other warning signs of gum disease. For example, bad breath can be a sign of gum disease, but it can be a sign of other oral health problems as well.
Plus, there are even more advanced signs of gum disease. For instance, later stages of gum disease can see the gums start to recede and pull back from the teeth. This can lead to infection and visible pus.
Understanding the Stages of Gum Disease
Spotting gum disease can be difficult because there are multiple stages. Understanding the different stages can be helpful in understanding from which stage of gum disease that you suffer. Once again, your Dalton dentist will be able to let you know for sure which stage of gum disease you have.
Gingivitis Is the First Stage
The most common stage of gum disease for people to get is stage one or gingivitis. This stage of gum disease typically involves bleeding of the gums, pain when flossing or brushing, and swollen gums.
Periodontitis Is the Second Stage
From gingivitis, you move on to the second stage: periodontitis. This is a more extreme stage that occurs when you don't get gingivitis treated professionally. During this stage, pockets start to form within the gums. Food and bacteria can become trapped in these pockets, which can lead to even more problems.
Advanced Periodontitis Is the Third and Final Stage
As you may have guessed, advanced periodontitis occurs if you don't get periodontitis treated professionally. During this stage, the gums start to pull back from the teeth. The gum disease can start to damage the supportive tissues and bones that support the teeth permanently. This is why tooth loss is common in this stage of gum disease.
In general, once gum disease has reached this stage, treatment is a bit more extreme, often requiring oral surgery. It's best to visit your dentist before it reaches this stage so that you don't have to undergo oral surgery.
Don't Try to Battle Gum Disease Alone
It's true that proper oral hygiene at home can prevent gum disease. However, it isn't enough to prevent gum disease altogether. That's why National Gum Care Month encourages people to visit their dentists at least twice a year. During these visits, your dentist can clean your teeth and check for any signs of gum disease.
We Can Help
Are you in need of gum disease treatment in Dalton? Perhaps you aren't sure whether or not you have gum disease. In either case, you can count on us to be here to help. We pride ourselves in offering a wide range of dental services for people living in Dalton.
Don't wait to get the treatment that you need for gum disease. The longer you wait, the worse it could get. Contact our staff today to set up an appointment.