Posted under:
General
Posted on: February 23, 2015
Is Stress Eating Away at Your Oral Health?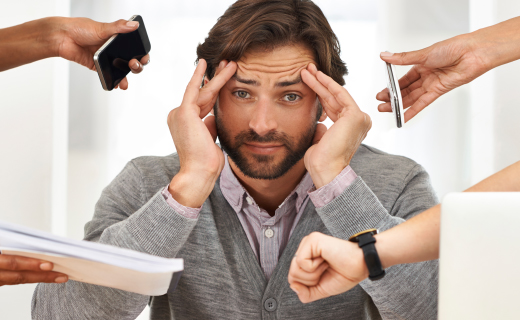 Stress strikes all of us at different times in our lives. We know how it harms our minds and bodies, but did you know that it hurts your oral health? New research shows a strong connection between stress and oral health, so it's more important than ever to know how to keep the pressures of life from causing dental pain and problems.
The Dental Dangers of Stress
While we're starting to see how stress can be a key factor in oral health, many may not be aware of the dental conditions it can cause. Check out this list of dental care risks:
Gum Disease can make you more susceptible to infections like periodontal disease.
Dry Mouth occurswhen the mouth lacks moisture and often results directly from stress or drugs that depression.
TMJ/TMD can be caused by the tooth grinding and trauma that often occur when facing anxiety and depression.
Canker Sores are often brought on by stress.
Bruxism is another name for tooth grinding and another problem caused by stress.
Burning Mouth Syndrome causes pain throughout the mouth and is often attributed to psychological problems.
Oral Lichen Planus is a series of oral sores and is thought to be a reaction to stress-induced viral infections.
The Impact of Stress on Oral Health
While stress is often seen in direct dental damage, it also has an indirect impact on your dental care habits. Many experiencing stressful times overlook their oral health, forgetting to brush and floss correctly, and skipping professional dentist visits. Many to start to eat poorly and choose more sugary options. This eventually leads to dental problems, which only increase their anxiety. So stress does more than cause dental damage, it's also one of the painful effects.
Stress happens in all our lives, so it's vital to learn how to handle your hassles to ensure that you stay healthy. Try following these helpful tips to ease your mind and care for your body:
See an affordable dentist in Dalton if you're worried that stress is harming your teeth and gums.
Keep up a good oral hygiene regimen.
Eat a healthy, well-balanced diet.
Get plenty of sleep.
Exercise regularly.
Seek professional help if you experience extreme anxiety or depression.
To get the dental care you deserve from an affordable dentist in Dalton, call today at or make an appointment.
offers affordable family dentistry and gentle, compassionate dental care in Dalton. Our office is conveniently located with extended hours to meet your needs. At , we provide most dental services, from basic preventative care and general dentistry to specialized procedures and complete dental reconstruction. We accept most dental insurance plans and offer affordable financial solutions for any budget. Patient satisfaction is our top priority and we strive to provide the exceptional, affordable dental care and personal touch that lead to lasting relationships. A smiling patient is our greatest reward and we look forward to keeping those smiles healthy, beautiful, and bright. Discover an affordable dentist who truly cares at .