Posted under:
Root Canal
Posted on: November 19, 2020
Invisalign: Frequently Asked Questions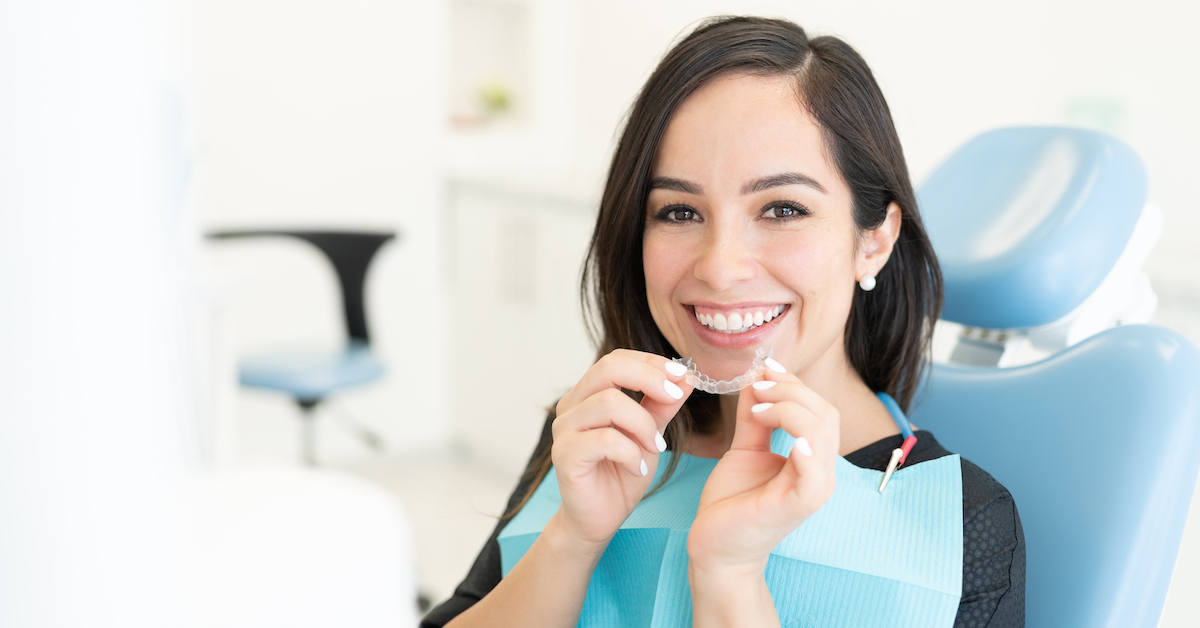 Many people with misaligned or crooked teeth feel self-conscious about their smiles. In addition to making you feel less confident, untreated orthodontic issues can cause a number of serious oral health issues. If you need orthodontic treatment but are hesitant about getting traditional, wire-and-bracket braces due to the way that they look visually, you may be interested to hear about Invisalign. While it won't be able to fix severe orthodontic issues, this modern straightening technique is perfect for those looking for a discrete, effective solution.
What Is Invisalign All About?
Invisalign is an innovative orthodontic treatment alternative that allows you to create a more aesthetically pleasing smile without broadcasting it to the world. The treatment itself consists of using clear, plastic aligners that are able to be taken out when needed. Since the plastic used in creating the aligners is flexible, Invisalign offers a great degree of comfort. The clear aligners allow your teeth to be gradually shifted into their proper position without having to wear visually unappealing metal braces.
Is Invisalign for Everyone?
While Invisalign is an exciting treatment option, it's important to note that it won't work for everyone. People with severe orthodontic issues won't be able to take advantage of the clear aligner trays. Invisalign works best for teens and adults who have mild to moderate orthodontic concerns like an overbite or an underbite, or crowded teeth or gapped teeth.
Here are a few questions to consider when you're thinking about whether Invisalign is the right treatment option for you.
Have all your teeth come in and has your jaw finished growing? Small children and younger teens typically aren't given Invisalign treatment because their jaws and teeth are still growing.
Are you able to stick to a regular treatment schedule? It's important that you wear your aligners for 20 to 22 hours a day. If you forget to put your aligners back in your mouth after you've removed them, the treatment won't work effectively. If you tend to be somewhat forgetful, you may find that a semi-permanent treatment option like braces is a better choice for your situation.
Do you have a strong desire for a discreet method of treatment? If you don't want everyone to know that you're receiving orthodontic treatment, Invisalign may be for you. This treatment method allows you to address your orthodontic concerns without having to worry about braces.
Your dentist or orthodontist will make the final call when it comes to determining if you can receive Invisalign. You can schedule an appointment for a consultation with our team by giving us a call. We're always happy to answer any questions you may have.
What Is the Process for Invisalign Like?
It's important to note that Invisalign therapy is totally customized. After your initial consultation, your dentist will decide whether you are a good candidate. A personal treatment plan will then be developed for you so that you will know what to expect from the entire process.
The next step of Invisalign treatment is to have an impression taken of your teeth. This mold will be used to create the aligner trays that you will wear. You will be given multiple sets of aligners. They will need to be swapped out every couple of weeks so that your teeth slowly move into the desired alignment.
Depending on your goals, the complexity of your issues and how well you follow your dentist's instructions, you may be able to complete your treatment within 12 to 18 months. Some people take more or less time. You will most likely be expected to schedule visits with your dentist every four to six weeks so that your progress can be monitored. The majority of people undergoing this treatment begin to see results within a few weeks.
Can You Tell Me About How Invisalign Will Impact My Life?
Unlike braces, you can remove your Invisalign aligners when you eat or drink. This means that there are no restrictions on what food and beverages you may consume. You will also need to remove your aligners whenever you chew gum or when you brush your teeth. It's recommended that you avoid smoking when wearing your aligners.
You may experience some slight discomfort when you begin each new stage of treatment. This is normal and happens because the teeth are being shifted into a new position. The feeling of discomfort will typically go away within a few days.
Since your aligners are custom made to fit your mouth, you will be able to speak properly with your aligners in. You can, however, expect to take a few days to adjust to having the aligners in your mouth before feeling more or less normal.
One of the things that people love the most about Invisalign treatment is that the aligners are nearly invisible. From a distance, people won't be able to see that you have anything on your teeth. When you are having up close conversations, some people may be able to notice. Many patients choose to take out their aligners for important presentations or other big life events.
What Will Happen When I'm Done?
Once your course of Invisalign treatment is complete, you will be able to take out your aligners one last time. In order to keep your teeth from shifting out of their new alignment, your dentist may prescribe you a retainer. If this is the case, our team will assist you in choosing the right retainer for you and your unique needs.
How Can a Local Dentist Help?
Not everyone can provide you with Invisalign therapy. This type of orthodontic treatment requires specialized training. Luckily for you, there is a local dentist in town who is highly experienced in providing Invisalign treatments to patients. If you want to know more about Invisalign and whether it is right for you, contact our office. Our team of highly trained professionals is looking forward to addressing any concerns and answering any questions that you may have about this innovative orthodontic treatment.