Posted under:
General
Posted on: May 18, 2015
How to Care for Teeth with Braces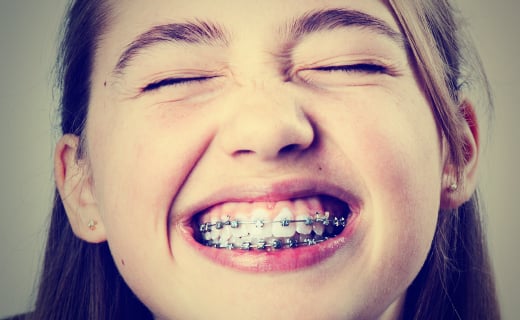 If your teeth aren't straight, it can be embarrassing, but an orthodontist can help. Their area of practice focuses on correcting the position of your teeth so that they look and function perfectly. Your orthodontist will take x-rays and make a mold of your teeth to determine if you need to wear braces. Although you may dread wearing metal inside your mouth, once it is removed, you'll have a perfect new smile. Orthodontic devices work by exerting constant pressure against crooked teeth over time to force them into a more desirable position.
How to Care for Teeth with Braces
Caring for braces properly is important for keeping your teeth and gums healthy during the corrective process. You'll need to visit your orthodontist regularly, so he or she can ensure that the wires and brackets are performing properly and staying in place. Maintaining good oral hygiene is critical so that you don't develop cavities while wearing your orthodontic gear. You'll also have to make adjustments in your eating habits. It will be difficult to chew hard foods like pretzels or bagels. You'll have to give up chewing gum during your treatment, and you must not eat large amounts of candy or drink lots of soda. Your orthodontist will provide a list of foods to avoid. If headgear is part of your treatment, be sure to wear it consistently to speed your progress.
Caring for Your Retainer
Retainers are plastic and wire devices that look similar to the mouth guards athletes wear during sports. They're created to help teeth retain their new position once orthodontic brackets have done their work. You'll wear your retainer at all times except for when you're sleeping and eating. If you skip days, you'll probably end up wearing your retainer longer. Because it stays in your mouth all day, your retainer can collect food particles and bacteria easily, so it's essential to clean it regularly. You can brush your retainer when you brush your teeth. Soaking it in mouthwash may also help. Follow your orthodontist's instructions for care and maintenance of all your orthodontic appliances, and you'll get the best results from your treatment.
To get the dental care you deserve from an affordable dentist in Dalton, call today at or make an appointment.
offers affordable family dentistry and gentle, compassionate dental care in Dalton. Our office is conveniently located with extended hours to meet your needs. At , we provide most dental services, from basic preventative care and general dentistry to specialized procedures and complete dental reconstruction. We accept most dental insurance plans and offer affordable financial solutions for any budget. Patient satisfaction is our top priority and we strive to provide the exceptional, affordable dental care and personal touch that lead to lasting relationships. A smiling patient is our greatest reward and we look forward to keeping those smiles healthy, beautiful, and bright. Discover an affordable dentist who truly cares at .