How to Brush When Wearing Braces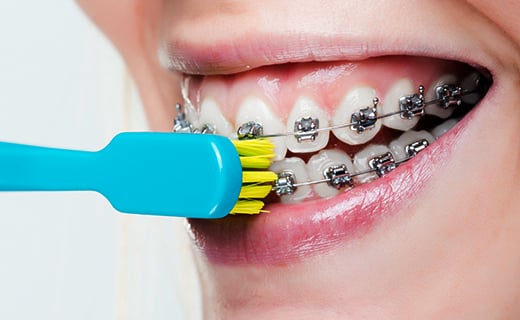 Braces for kids and adults are orthodontics designed to restore alignment of the teeth and correct speech impediments due to poorly aligned teeth. Although braces often seem like a hassle and require great care, they are well worth the sacrifice. To maximize the outcomes of enduring braces, proper care is essential. Proper brushing and flossing techniques with braces will ensure that wearers do not experience any discoloring, cavities, or inflamed gum tissue. Use this guide to learn techniques for caring for the teeth when wearing braces:
Get a professional cleaning. Professional cleanings are essential to basic dental care, but may be required more frequently with braces. Talk to your orthodontist about the frequency of cleanings and when it is best to seek professional cleanings. Many experts recommend cleanings after each tightening. You will also need to alert your family dentistry expert that you have braces, as special tools may be necessary to ensure proper cleaning.
Brush after every meal. This habit is often touted as optional for individuals without braces, but it is a must for those with braces. With braces, food, bacteria and debris can easily become trapped and cause unsightly damage if not removed. The longer bacteria sits on your teeth, the more time it has to form acids that can erode the enamel and inflame the gums. Follow these brushing with braces tips to ensure your teeth stay clean and healthy:
To reduce the spread of acid that can erode the tooth enamel, rinse your mouth with warm water before brushing. Swish several times and spit to neutralize acid and dislodge debris.
Rinse your toothbrush with hot water before brushing. Toothbrushes can harbor bacteria, but rinsing before use can wash away harmful surface germs. You may want to run clean fingers over the bristles a few times as you rinse your toothbrush to further rid the bristles of any trapped debris. Rinse your toothbrush again with hot water following use. Replace your toothbrush every three months or as it becomes worn, whichever comes first.
Apply toothpaste to your toothbrush and begin brushing. Dedicate at least two minutes to your brushing routine, dividing your mouth into quadrants and focusing thoroughly on each section. You may find it necessary to spit as you free debris while brushing.
You may find a special proxy toothbrush is necessary to work between brackets and wires. These toothbrushes look like miniature Christmas trees and can reach between each bracket as well as between the wire and your teeth to dislodge debris and scrub off bacteria. Once-a-day use, at minimum, is recommended. Replace often to reduce exposure to germs and bacteria.
Be certain to brush your tongue as well as your teeth. Cleaning the tongue not only helps keep your breath fresh, but it also reduces bacteria that lead to gingivitis.
Change your habits. When it comes to braces, you have to change your eating habits along with your dental care habits. Add this checklist to your daily routine:
Gargle with salt water morning and evening. Gargling with salt water can free debris, reduce gingivitis, and neutralize acids.
Reduce or avoid sugar consumption. Sugary foods are known to do lots of terrible things to your health, and the same is true of your teeth. Sugar joins with the bacteria of the mouth to form acids that erode the teeth. Avoid sugar, if possible.
Eat fruits and vegetables. Vitamins, minerals, and antioxidants in fruits and vegetables can ward off oral diseases and contribute to your overall health.
Braces for kids cost time and money, but with proper care, the end result will be worth every moment of your time and every penny spent. You are in control of the outcome—diligent dental care is essential for the best results.
To get the dental care you deserve from an affordable dentist in Dalton, call today at or make an appointment.
offers affordable family dentistry and gentle, compassionate dental care in Dalton. Our office is conveniently located with extended hours to meet your needs. At , we provide most dental services, from basic preventative care and general dentistry to specialized procedures and complete dental reconstruction. We accept most dental insurance plans and offer affordable financial solutions for any budget. Patient satisfaction is our top priority and we strive to provide the exceptional, affordable dental care and personal touch that lead to lasting relationships. A smiling patient is our greatest reward and we look forward to keeping those smiles healthy, beautiful, and bright. Discover an affordable dentist who truly cares at .