How Dental Implants Can Restore Your Smile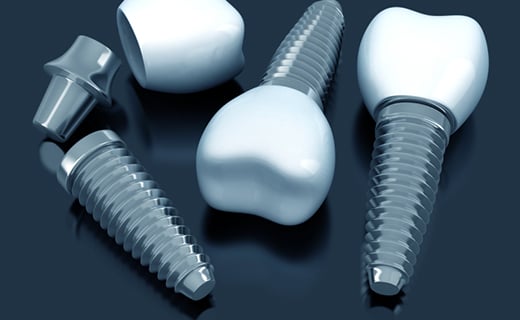 With nearly 70 percent of American adults between the ages of 35 and 44 missing at least one tooth—and 25 percent of people over 74 having lost all of their teeth—many people have chosen affordable dental implants as an alternative to dentures or bridges. Issues caused by tooth and bone loss include problems with speaking and eating, and misalignment of the teeth and jaw. If you've lost teeth because of tooth decay, gum disease, an accident, aging, or medications, you may be interested in finding out about the best dental implants for you.
If your self-esteem is suffering because of missing teeth, there is no need to feel embarrassed with dental implants, which provide an aesthetically pleasing alternative to natural teeth. Since dental implants screw directly into the bone, they provide the stimulation needed to prevent further bone loss in the area of missing teeth—and you also have a full set of functional teeth. This will allow you to be able to eat and chew foods properly, as well as prevent any pain caused by a misaligned jaw.
Dental implants can be used to replace a single tooth, multiple teeth with a bridge, or by providing a full set of removable dental implants for people who have lost all of their lower teeth. The procedure for each implant option differs slightly, but each option provides firmly secured implants that are virtually identical to your natural teeth in looks and function.
A bonus with dental implants is that, unlike real teeth, they are made of metal and cannot decay.
But even though dental implants are not real teeth, they still require proper dental care: twice-daily brushing, flossing, and regular dental check-ups. When cared for properly, the best dental implants can provide a lifetime of benefits.
Although the majority of people are good candidates for dental implants, if you have—or have had—serious health problems, you may wish to speak to a dental implant dentist about whether or not your medical issues will be a problem.
Problems associated with dental implants may be caused by the following health conditions:
• Uncontrolled gum disease
• Radiation therapy to the jaw
• Uncontrolled diabetes
• Cancer
• Smoking and alcoholism
If the loss of teeth is affecting the function of your mouth and jaws or your self-esteem, see a dental implant dentist who can determine if you are a good candidate and recommend the best dental implants for you.
To learn about our family dentistry practice in Dalton, call today at or make an appointment.
offers affordable family dentistry and gentle, compassionate dental care in Dalton. Our office is conveniently located with extended hours to meet your needs. At , we provide most dental services, from basic preventative care and general dentistry to specialized procedures and complete dental reconstruction. We accept most dental insurance plans and offer affordable financial solutions for any budget. Patient satisfaction is our top priority and we strive to provide the exceptional, affordable dental care and personal touch that lead to lasting relationships. A smiling patient is our greatest reward and we look forward to keeping those smiles healthy, beautiful, and bright. Discover an affordable dentist who truly cares at .