Posted under:
General
Posted on: August 13, 2015
From Enamel to Cementum: Understand Your Teeth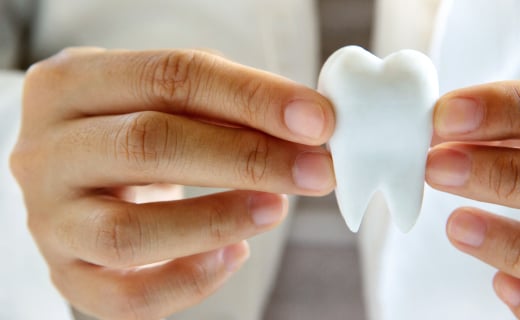 Your teeth are essential for everyday functioning. You use them to bite and chew, and they help you speak properly, but how much do you really know about them? Here's a quick reference to help you understand the various types of teeth and their composition.
Your tooth's crown is the visible portion inside your mouth.
The outer surface of your teeth is covered with enamel, the hardest substance in your body. It is mostly made up of the hard mineral, calcium phosphate.
The layer below your enamel is called dentin. It is made from living cells that secrete mineral.
Below dentin is the pulp, which is the central living structure of the tooth. It is full of blood vessels and nerve tissues.
Cementum consists of connective tissues designed to bind the tooth roots to the gums and jaw.
The periodontal ligament assists in holding your teeth against your jawbone.
The tooth root extends below the gum line and into the jaw.
Adult Teeth Types
Most adults have 32 teeth as described below.
Incisors are the four middle teeth located on the top and bottom of the jaw (eight total).
The four canine teeth are the pointed, sharp teeth located just outside of the incisors.
Eight premolars erupt between the molars and canine teeth.
Molars are the four flat teeth at the back of the mouth. They are used for grinding food.
The four third molars, commonly called wisdom teeth, erupt in the late teens, but they are often extracted to prevent complications.
Keep Teeth Healthy with Essential Dental Care
While an affordable dentist can help save your teeth when tooth decay, disease, or injury threaten them, even the best dentist can't follow you home to make sure you're cleaning them properly. To keep your smile healthy and bright, and spend less time in the dentist's chair, brush twice each day with a soft-bristled toothbrush, and floss daily. If you experience bleeding, painful or swollen gums, or visible tooth decay, make an appointment with your dentist as soon as possible.
To learn about our family dentistry practice in Dalton, call today at or make an appointment.
offers affordable family dentistry and gentle, compassionate dental care in Dalton. Our office is conveniently located with extended hours to meet your needs. At , we provide most dental services, from basic preventative care and general dentistry to specialized procedures and complete dental reconstruction. We accept most dental insurance plans and offer affordable financial solutions for any budget. Patient satisfaction is our top priority and we strive to provide the exceptional, affordable dental care and personal touch that lead to lasting relationships. A smiling patient is our greatest reward and we look forward to keeping those smiles healthy, beautiful, and bright. Discover an affordable dentist who truly cares at .