Posted under:
General
Posted on: July 30, 2015
Dental Work and Pregnancy: What's Safe, What's Not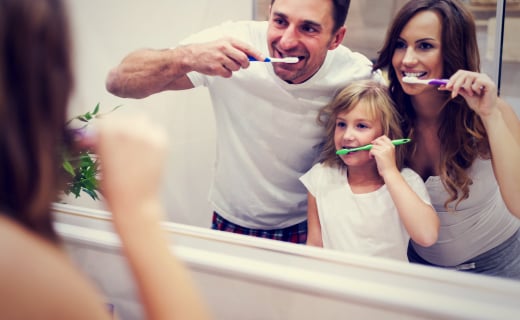 If you're expecting a baby, you may have many questions about dental care. Just like seeing your doctor during pregnancy is important, it's also advisable to find an affordable dentist and obtain preventative dental cleanings and exams. They are not only perfectly safe but also recommended. During pregnancy, you will experience a rise in hormone levels; this can cause your gums to bleed, swell, and trap food particles, which can set the stage for oral infections. Gum disease and other oral infections have been linked to preterm birth. Preventative dental care helps you avoid them.
Other Dental Work and Pregnancy
To reduce the risk of infection, fillings and crowns should be placed when it is safe to do so. This type of work is best accomplished during the second trimester when possible. During the third trimester, it may be difficult for you to remain on your back for extended periods of time. At the later stages of pregnancy, it is safest to postpone unnecessary and elective work until after the birth to avoid exposing your baby to any risks. Emergency work, such as root canals or extractions, is sometimes necessary.
X-Rays and Medications
Research has shown conflicting results about the safety of common dental medicines when used during pregnancy. Lidocaine does cross the placenta, so if you need dental work, it's best to use as little of the drug as possible to maintain comfort. Dental treatments often include antibiotics to prevent or treat bacterial infection. Penicillin, clindamycin, and amoxicillin are generally considered safe during pregnancy. X-rays taken for routine annual exams can be postponed until after the birth, but are sometimes necessary for emergency procedures. According to the American College of Radiology, no single diagnostic x-ray is capable of harming a developing fetus or embryo.
Dental Care for Expectant Mothers: Helpful Tips
Follow these suggestions to maintain your dental health during your pregnancy:
Brush and floss daily.
Choose healthy, well-balanced foods.
Let your dentist know you are pregnant.
Take a pillow and your favorite music to appointments to enhance your comfort.
Uncrossed while in the dentist's chair to maintain healthy circulation.
To learn about our family dentistry practice in Dalton, call today at or make an appointment.
offers affordable family dentistry and gentle, compassionate dental care in Dalton. Our office is conveniently located with extended hours to meet your needs. At , we provide most dental services, from basic preventative care and general dentistry to specialized procedures and complete dental reconstruction. We accept most dental insurance plans and offer affordable financial solutions for any budget. Patient satisfaction is our top priority and we strive to provide the exceptional, affordable dental care and personal touch that lead to lasting relationships. A smiling patient is our greatest reward and we look forward to keeping those smiles healthy, beautiful, and bright. Discover an affordable dentist who truly cares at .