Dealing with Impacted Wisdom Teeth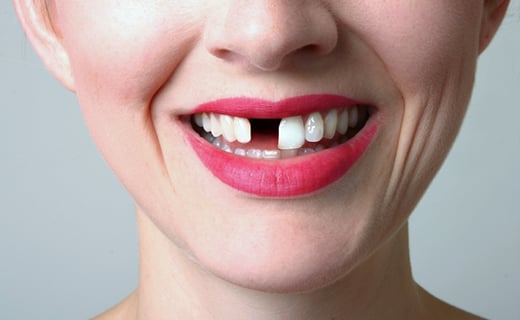 As a child, losing your baby teeth and the growth of your adult teeth is often cause for excitement and even a little extra cash, if the tooth fairy visits. However, as an adult, the welcome reception for your wisdom teeth rarely comes with a celebration or money. Unfortunately, the third molars that emerge along the top and bottom in the back of the mouth are often a source of pain, discomfort, and expensive wisdom tooth extraction. Wisdom teeth commonly become impacted for many individuals. Impacted wisdom teeth can lead to infection, disease, or damage to surrounding teeth. This makes it important to know the symptoms of impacted wisdom teeth and maintain regular dental care.
Impacted Wisdom Teeth: Symptoms
Because symptoms aren't always present, you may not know if you have impacted wisdom teeth. But there are warning signs. If you have any of the following signs or symptoms of impacted wisdom teeth, consult with your dentist in Dalton right away to determine whether wisdom teeth removal is the best course of action for you.
Pain
Swollen, red, tender, or bleeding gums
Swelling around the jaw
Headaches at the temporomandibular joint, which connects the jaw and skull (TMJ)
Unpleasant taste in the mouth
Bad breath
Impacted Wisdom Teeth: Causes
The eruption of  wisdom teeth can cause crowding in the mouth, which leads to abnormal development. Some people may have impacted wisdom teeth, which can cause infection or interruption of the normal growth of the surrounding teeth. The wisdom teeth can be partially impacted, with part of the crown showing through the gum, or fully impacted, where they never break through the gumline. If any of the wisdom teeth are impacted—whether partially or fully—the risk of complications is high.
Impacted Wisdom Teeth: Complications
Complications of impacted wisdom teeth can start as bleeding gums or mild pain, but if left untreated, can quickly develop into such problems as:
Damage to adjacent teeth. Wisdom teeth can push on the second molars, causing infection or the need for orthodontia.
Gum disease and tooth decay.  Wisdom teeth are prone to infection and decay because this area of the mouth can be hard to clean, causing food and bacteria to become trapped between the teeth and gums.
Development of cysts. Wisdom teeth grow in a sac located within the jaw, which can become filled with fluid, developing an uncomfortable cyst that can damage the nerves of the teeth, gums, and jaw.
Impacted Wisdom Teeth: When to See Your Dentist in Dalton
Schedule a visit with your dentist in Dalton right away if you experience pain, bleeding gums, inflammation, or other symptoms at or near your wisdom teeth. If you do not deal with wisdom teeth problems, it can lead to serious complications.
Even if your wisdom teeth are not causing discomfort, regular dental check-ups are essential to ensuring good oral health.
To get the dental care you deserve from an affordable dentist in Dalton, call today at  or make an appointment.
offers affordable family dentistry and gentle, compassionate dental care in Dalton. Our office is conveniently located with extended hours to meet your needs. At , we provide most dental services, from basic preventative care and general dentistry to specialized procedures and complete dental reconstruction. We accept most dental insurance plans and offer affordable financial solutions for any budget. Patient satisfaction is our top priority and we strive to provide the exceptional, affordable dental care and personal touch that lead to lasting relationships. A smiling patient is our greatest reward and we look forward to keeping those smiles healthy, beautiful, and bright. Discover an affordable dentist who truly cares at .