Checking dental health helps keep diseases at bay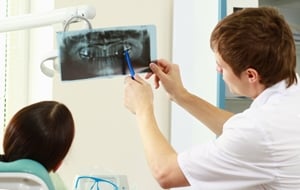 When people have problems with their teeth, they go to the dentist office to have an exam for cavities or gum disease. They don't necessarily think of dental issues in terms of heart health, blood sugar level or respiratory illness. But a number of research studies indicate they should consider the whole body when they are having dental pain because it could be an indication of more serious health concerns.
During American Heart Month in February, every aspect of cardiovascular health is in focus. From clogged arteries to high blood pressure, people should be aware of the steps they can take to reduce or eliminate unhealthy conditions that could lead to a stroke or heart attack. Scheduling an appointment with the family dentist is one of them.
According to the American Dental Association (ADA), bacteria that enters the mouth through tooth decay or gum disease can spread throughout the body. In addition to a well-known link to diabetes, dental problems may be an indication of nutritional deficiencies, blood disorders, impaired immunity and bacterial pneumonia.
Periodontitis, the most severe level of gum disease, also increases the risk of a pregnant woman delivering a baby prematurely or a full-term baby that has a low birth weight.
Link to diabetes
To block dental disease from causing bad health in other parts of the body, ADA states that prevention is key. Good hygiene that includes a minimum of brushing teeth twice and flossing once daily, as well as regular check-ups with a local dentist, is important to maintain good dental health and identify problems in the early stages.
For people who are at the greatest risk of gum disease – at age 40 or older – regular exams are especially important for those with diabetes. When gingivitis, the most common form of gum disease, evolves into the more serious periodontitis, there is an increased risk of developing type 2 diabetes and exacerbating an existing case. While this form of diabetes can be regulated with a healthy diet and medication, people with advanced gum disease have to monitor their sugar intake to make sure it doesn't create unhealthy glucose levels.
In addition, high sugar levels compromise one's immune system and the ability to fight infections, including oral disease. Conditions that include tooth sensitivity and decay, dry mouth and delayed healing of mouth sores may result.
Another health concern related to dental care is respiratory illness. When high levels of bacteria are allowed to fester in the mouth, they can travel down the throat and into the lungs and create conditions that make breathing difficult. In the worst case scenario, illnesses such as pneumonia may result.
Debate on heart disease
The most hotly debated link between dental problems and overall health remains the one regarding cardiovascular conditions such as clogged arteries, which some researchers believe may worsen from chronic inflammation that begins in the mouth.
In 2012, the American Heart Association (AHA) announced that studies correlating swelled, diseased gums and clogged arteries are inconclusive, as is the link between dental health and heart disease.
However, the AHA also stated that periodontal and heart diseases have similar risk factors such as smoking, age and diabetes. The association continues to advise people to take care of their dental health as part of a heart-healthy regimen, pointing out that regular dental care reduces the risk of infections that may affect the heart.
Whatever the debate, people should keep their dentists informed of existing health conditions to help devise treatments that will be most beneficial. By making them part of a person's medical team, they will be in a better position to deliver dental care that keeps one in optimum shape.