Posted under:
General
Posted on: July 2, 2015
Brighten Your Smile with Our Expert At-Home Whitening Secrets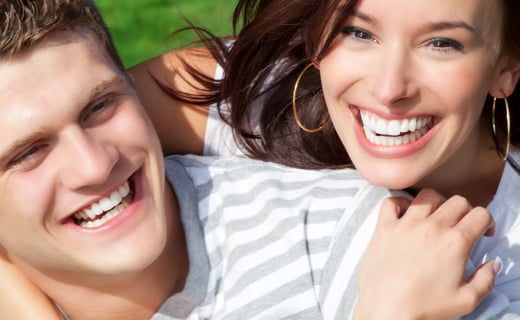 Age, lifestyle factors, and certain foods can stain your teeth yellow or dingy gray, but do-it-yourself remedies can help restore their luster. Although deep stains may require professional dentist teeth whitening techniques, many over-the-counter products can help diminish mild stains. At-home dental whitening kits made with carbamide peroxide can bleach away surface stains to restore your teeth's natural color. Gel-based teeth bleaching whitening formulas are applied with a brush, or include special trays that are worn approximately 45 minutes each day for a week or longer. Whitening strips are effective when worn for just a few minutes each day. Home remedies ranging from brushing with baking soda to chewing sugarless gum are also popular.
The following ten tips can help you get whiter teeth, and maintain your gorgeous smile.
Brush at least twice a day and floss every day. When possible, brush after each meal. Removing food residue before it can stain your teeth is a foolproof dental whitening strategy.
If you have lots of existing dental work such as veneers, crowns, or fillings, remember that whitening procedures won't change their color. Discuss the issue with your dentist to determine how to keep your tooth color consistent.
Don't smoke. Lighting up is one of the top contributors to tooth discoloration. Not only can it wreck your health, smoking causes deep stains, bad breath, and gum disease.
Beverages such as tea, coffee, wine, and berry-based fruit juices often stain teeth. You don't need to give them up, though – just rinse your mouth with water after consuming them.
Some healthy foods also cause stains, but you don't have to miss out on their benefits. Just be sure to rinse your mouth with water, or brush your teeth, immediately after eating blueberries, beets, blackberries, and any other foods that are capable of leaving stains on shirts or napkins.
Limit your intake of energy or sports drinks and bottled lemonade. Studies show that they may erode tooth enamel and contribute to discoloration. Rinse thoroughly after consuming these beverages, and don't sip on them for long periods of time.
Some substances, such as chlorhexidine mouth rinse and tetracycline, can stain teeth. If you are required to take a medication that causes discoloration, discuss your options with your dentist and doctor.
If you avoid food and drinks that discolor your teeth, your whitening results will last longer.
Don't use at-home teeth bleaching products too often. Repeated whitening procedures can eventually make teeth look translucent or even blue.
See your dentist for routine exams and professional cleanings.
To learn about our family dentistry practice in Dalton, call today at or make an appointment.
offers affordable family dentistry and gentle, compassionate dental care in Dalton. Our office is conveniently located with extended hours to meet your needs. At , we provide most dental services, from basic preventative care and general dentistry to specialized procedures and complete dental reconstruction. We accept most dental insurance plans and offer affordable financial solutions for any budget. Patient satisfaction is our top priority and we strive to provide the exceptional, affordable dental care and personal touch that lead to lasting relationships. A smiling patient is our greatest reward and we look forward to keeping those smiles healthy, beautiful, and bright. Discover an affordable dentist who truly cares at .