Posted under:
General
Posted on: October 5, 2015
Are You Ready for Your Wisdom Teeth?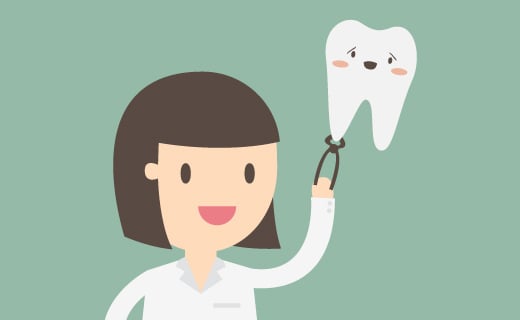 When you're about 16 years old, it's time for you and your family dentist to discuss your wisdom teeth. Also called third molars, your wisdom teeth are the last adult teeth to erupt. You have four wisdom teeth in the back corners of your mouth; two are located at the top, and two are on the bottom of your jaw on both sides. Some wisdom teeth erupt normally into the mouth, and perform the same functions as other teeth. However, many third molars are unable to erupt because there is no room for them, and wisdom teeth extraction is required.
Impacted Wisdom Teeth
Third molars can become trapped inside your jaw in a variety of positions. Some are easier to remove than others. Not everyone develops third molars; some lucky people never have to worry about wisdom teeth trouble. If you're one of them, your family dentist will let you know. When wisdom teeth are impacted, they may cause pain and swelling. An x-ray will reveal if you have an impacted tooth that needs to be extracted. Getting a wisdom teeth extraction early in life makes the process easier. When you're older, the roots are better formed and the bone surrounding your teeth is denser. Older nerve tissues don't heal as easily either, so adult extractions can be more painful and complicated.
Recovery After Wisdom Teeth Extraction
Wisdom tooth extractions can be performed by a qualified family dentist or an oral surgeon. The procedure only lasts a few hours, but recovery may take up to two weeks. You can expect some degree of pain and swelling after the surgery, but your dentist or oral surgeon will provide medication to ease your symptoms. You'll probably have to miss a few days of school and you'll have to eat a soft diet for a few days while your mouth heals. Typically, wisdom teeth extraction goes smoothly, and you'll feel like yourself again soon.
To get the dental care you deserve from an affordable dentist in Dalton, call today at or make an appointment.
offers affordable family dentistry and gentle, compassionate dental care in Dalton. Our office is conveniently located with extended hours to meet your needs. At , we provide most dental services, from basic preventative care and general dentistry to specialized procedures and complete dental reconstruction. We accept most dental insurance plans and offer affordable financial solutions for any budget. Patient satisfaction is our top priority and we strive to provide the exceptional, affordable dental care and personal touch that lead to lasting relationships. A smiling patient is our greatest reward and we look forward to keeping those smiles healthy, beautiful, and bright. Discover an affordable dentist who truly cares at .